Video of a young woman proposing to a fellow male student on the premises of University of Lahore went viral on social media causing outrage while landing the duo in hot water. 
What happened: In the video, the girl can be seen on her knees, offering a bouquet of flowers to her male counterpart who goes on to hug her while a crowd of students gathered around cheers.
University's Action: The University administration formed a special disciplinary committee which held its meeting on Friday. The committee decided to expel the students for "violating the university's rules and regulations and serious infraction of the code of conduct." Furthermore, the students have been barred from entering the premises of the University and all its sub campuses. A notification in this regard has also been issued and is shared widely on social media.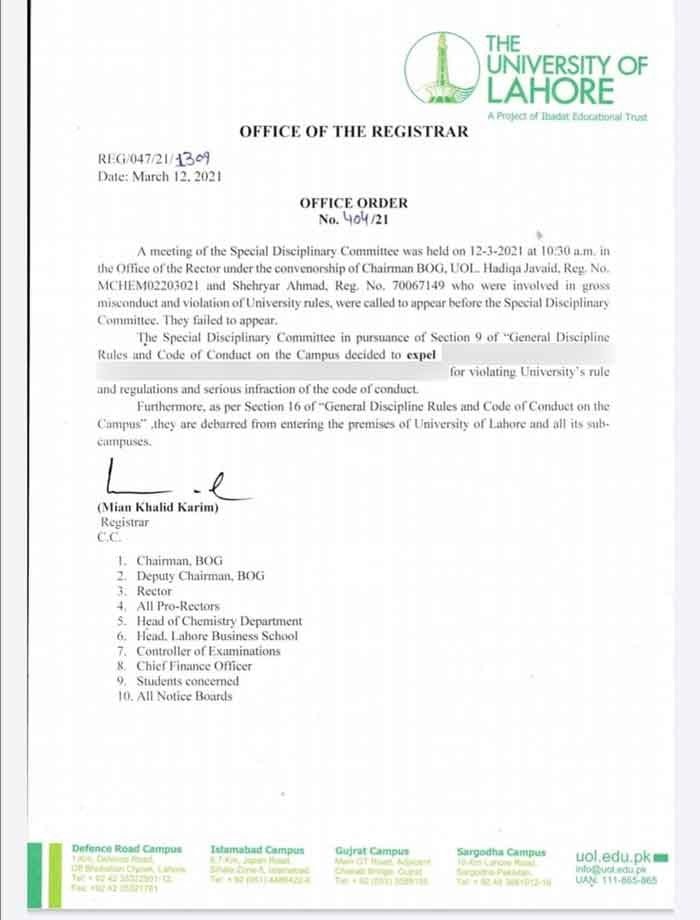 People's reaction: Meanwhile, the expulsion news remained a top trend on social media with many opposing the penalty imposed on the students.
Some, including Lawyer and Human Rights Activist Jibran Nasir argued that people involved in issues like these get punished, but the ones involved in heinous crimes often get away easily.
Some were very quick to blame it all on Aurat March.
While some offered their support on the condition of 'nikah'.
While other just kept trolling the couple.
What do you think about the University's action? Let us know in the comments.