Established in 1879, and dubbed South Asia's oldest bakery, Mohkam-ud-din & Sons Bakers is famous for its scrumptious cakes and finger biscuits. Located in Lahore, the provincial capital of Punjab, the bakery is renowned for offering the same delicious taste and quality to its loyal customers even a 140 years after its inception.
Kushbakht Hussain Naqvi founded the bakery on the 1st of January in 1879, after learning how to bake from Lady Aitchison who, reportedly, was an exceptional baker herself. Kushbakht was on good terms with Lady Aitchison's husband, Sir Charles Aitchison (founder of Aitchison College), as he was he tea supplier to the British army at the time. So when Lady Aitchison noticed his interest and aptitude in baking she took him under her wing and taught him what she knew of the craft.
Mohkam-ud-din & Sons Bakers survived the partition, and decades more of turmoil in Pakistan and is now run by the grandson of the founder, Mohkam Naqvi.
It is located in Lahore's Anarkali bazaar, which is also home to many other historical sights and institutions. The bakery has faithfully served the citizens of Lahore for more than a 100 years, irrespective of their caste or creed. Apart from their finger biscuits, they specialise in making cakes. The bakery still provides special cakes for Christmas, Diwali, Eid and Guru Nanak's birth anniversary. In fact, the rich plum cake that the bakery is famous for started out as a christmas cake even though now it is in demand year round.
Mohkam-ud-din & Sons Bakers plum cake has garnered many fans and, reportedly, former President Asif Ali Zardari and ex-Prime Minister Nawaz Sharif are fans of the cake. The bakery has also made cakes for important foreign dignitaries, including the Shah of Iran and Archbishop of Canterbury. In the early 1960s, when the Shah of Iran was visiting Lahore Mohkam-ud-din & Sons Bakers made an enormous 12 feet tall plum cake for him. The cake weighed 500 lbs and had 35 tiers. And, in a surprise twist that shocked and delighted the Shah of Iran the cake had live birds hidden away in it that fluttered away into the sky once the cake was cut open.
Mohkam Naqvi stated that the bakery's finger biscuits and cakes were firm favourites of famous personalities like Quaid-e-Azam Mohammad Ali Jinnah, Jawaharlal Nehru, Feroz Khan Noon, Mumtaz Daultana, Nawab of Junagadh, Sir Henry Lawrence, and the renowned poet Allama Iqbal.
"Our grandfather introduced bakery items like biscuits, patties, pastries, and cakes in the sub-continent," he said. "We have our own recipes that make them unique and delicious," he added.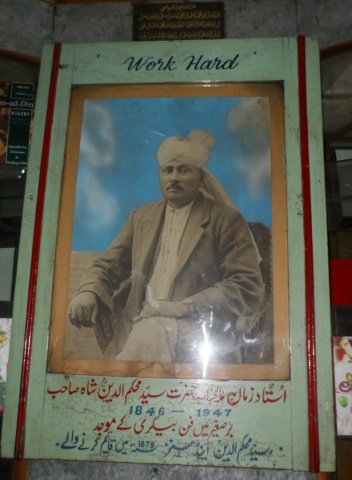 The bakery still has a legion of loyal customers that will only ever give their patronage to this shop. But, apart from its loyal clientele it is also visited by history buffs as it still stands as a functioning historical monument.