The importance of a free press is something most states try to aspire to, in name at least. Here at Propergaanda, we have decided to look at how the freedom of the press has been outlined and protected in Pakistan – and what we can do about it now.
Media laws in Pakistan have always been a little confusing. With our history of both colonization and political and military unrest, our institutions have not always been successful in protecting press freedom. Law implemented within these regimes stayed for a long time after their rule ended.
The upward turn for Pakistani press freedom happened during Musharraf's regime, in which press freedom was almost guaranteed.
However, any critique against state institutions were not allowed. This would be heightened during our War on Terror, as Islamic fundamentalism rose.
In 2016, a new cybercrime law was implemented, which divided many.
Cybercrime laws finally held content and interaction on social media as a punishable offence. However, this would not just apply to gender-based attacks. Any criticism of state institutions is monitored and punishable under the criminal court. The problem with such a law is that Military courts, which are notoriously secret, were given power to work outside the law when Islamic terrorism was at an all-time high. While this step may have been necessary at the time, things have changed.
This has led to us being in an odd place where the freedom of press within Pakistan is partially guaranteed by the state, but just not against the state.
Recently, there has been an increase in enforced disappearances without any explanations, media blackouts of grassroots campaigns, and constantly throwing around the term "foreign funded." This has caused an air of self-censorship, in which media is censoring themselves just to appease the powers that be. And this has been noticed around the world.
"Over the past year, there has been a noticeable increase in attacks on the right to freedom of expression in Pakistan. We have seen this in the form of regular columnists being refused publication, increased self-censorship and the heightened scrutiny of the editorial policies of many media outlets," said Rimmel Mohydin, South Asia Campaigner at Amnesty International.
And the truth is this environment has shown to have real results. According to the Committee to Protect Journalists (CPJ) 61 journalists have been killed in the line of fire. In the past 5 years, 26 journalists have been murdered.
From those 26 murders, only one was convicted and that too was overturned by a higher court. The lives of journalists are not given the same respect as others, nor is their safety. One of the biggest cases was the murder of Saleem Shahzeb, a vocal critic of the Pakistani establishment. His body was found tortured, and many suspect state institutions were behind it. While they have denied such clams, this is part of the bigger issue of problem perception and how our institutions handle them. There also the time Hamid Mir was attacked by 4 gunmen in Karachi.
Nowadays though, murder is much less common as compared to enforced disappearance. In the past few years, journalists and bloggers keep disappearing without any real indication of what is happening. The biggest problem that arises is that it comes off as our security forces do not care when this happens.
Which indicates that they either do not care for their journalists, or worse; they already know what happened.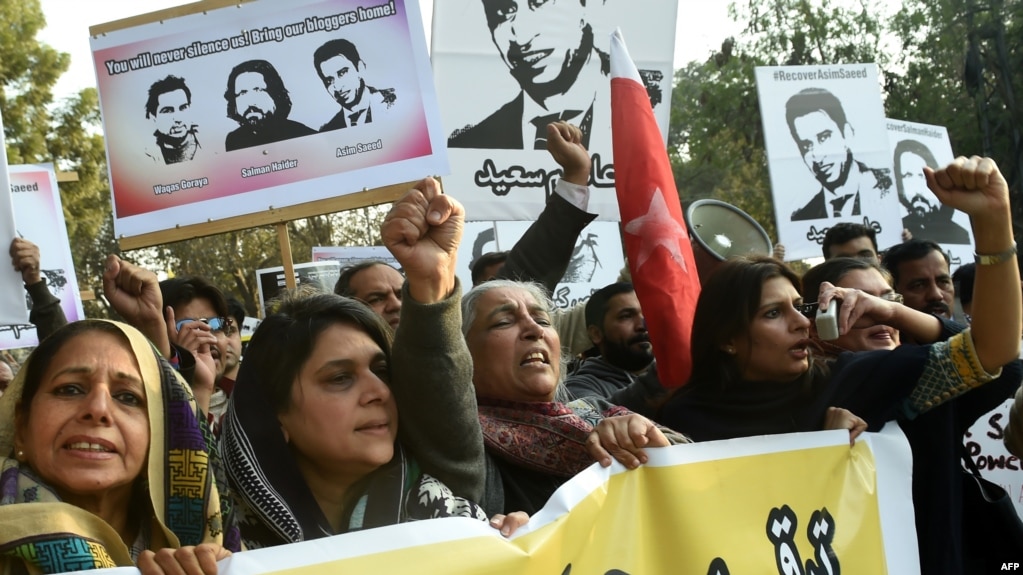 In 2017 5 bloggers went missing. The whereabouts of one of them are still unknown. Others have either fled the country, or kept a low profile. All have said they were tortured. All say they know who did it. But they are too scared. This is self-censorship of the media. Which scares us into submission.
This tactics are not just limited to hardcore attacks, while they are the worst.
During the 2018 elections, Dawn news's newspaper route was disrupted, making many believe the state favored a certain candidate or narrative. The use of online trolls and bots has raised an army of individuals who are ready to attack and shame anyone who goes against their point of view.
Just one month ago, Facebook took down 103 pages, groups, and accounts of Pakistani origin on for being involved in "coordinated inauthentic behavior".
The social media giant revealed that these 'assets' were linked to Inter-Services Public Relations (ISPR) employees. This type of new age censorship has created a new age of control over the media.
However, I do want to point out one thing; Pakistan's press freedom is at a stage where more and more people are raising their voices against the suppression. However, there is much that needs to be improved when it comes to freedom of press.
On world freedom press day, we remember those who lost their lives in the quest for truth, transparency and justice.