Security forces moved in to Sur Baher, on the edge of East Jerusalem, to tear down buildings said to house 17 people. Residents said they had been given permits to build by the Palestinian Authority, and accused Israel of an attempt to grab West Bank land. But Israel's Supreme Court ruled that they had violated a construction ban.
Israel captured the West Bank in the 1967 Middle East war and later effectively annexed East Jerusalem. Under international law, both areas are considered to be occupied territory, though Israel disputes this.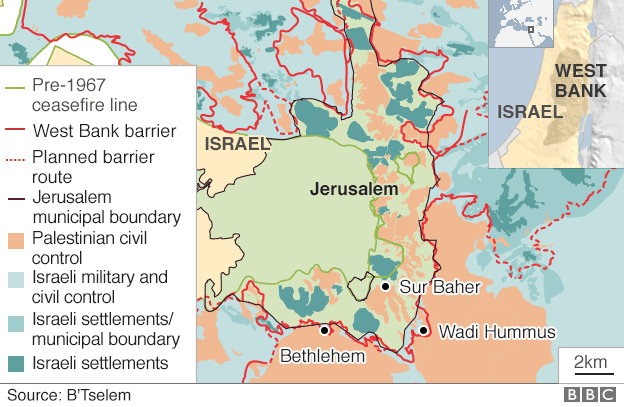 Some 700 Israeli police officers and 200 soldiers were involved in Monday's operation in the village of Wadi Hummus, on the edge of Sur Baher. They moved in at about 04:00 (01:00 GMT) along with excavators, which began tearing down the 10 buildings the UN says were earmarked for demolition.
Nine of the Palestinians who have been displaced are refugees, including five children, according to the UN. Another 350 people who owned homes in buildings that were unoccupied or under construction are also affected.
One of the residents, Ismail Abadiyeh, told AFP news agency his family would be left "on the street".