What Happened?
Monday night, Hareem Shah posted a video of her slapping the controversial Maulvi, Abdul Qavi. The video shortly acclaimed popularity on social media and Twitteratis had mixed opinions. In the video, Qavi is seen sitting on a bed using his phone when a woman in red clothing comes in and slaps him across the face.
So who is Hareem Shah?
Hareem Shah is a Pakistani Tiktok celebrity from Khyber Pakhtunkhwa with over 5.1 million followers, she is most renowned for sharing a video of her in Pakistan's Foreign Office on October 22, 2019, which raised a lot of eyebrows regarding her ties to influential people. She has also posted pictures with the Prime Minister of Pakistan, Imran Khan and when asked about it she mentioned that her aunt was a Senator whose office she would visit often. Furthermore, adding to the long line of controversies tied to the 23-year-old, the most prominent one is a video of her and a friend video calling Pakistan's Railway Minister, Sheikh Rasheed where Hareem alleges him of sharing explicit content on call in a humorous manner. Shah was subjected to intense backlash after the video was leaked to the extent of receiving death threats from people on social media.
Who is Maulvi Abdul Qavi?
Qavi, a religious cleric from Multan, is often seen surrounded by controversy. Previously a prominent member of PTI and the head of religious affairs was expelled due to his videos and selfies with late-model Qandeel Baloch. Followed by the murder of Qandeel Baloch and his arrest in the case, Qavi was later suspended from the Ruet-i-Hilaal Committee. His religious opinions have been famous for sparking contention. However, this was not the first time Qavi was starred in Hareem Shah's TikTok, an earlier posted video showed Hareem asking Maulvi Abdul Qavi about some religious information which he denies saying "Quran says it, I do not", followed by a series of videos of their time together.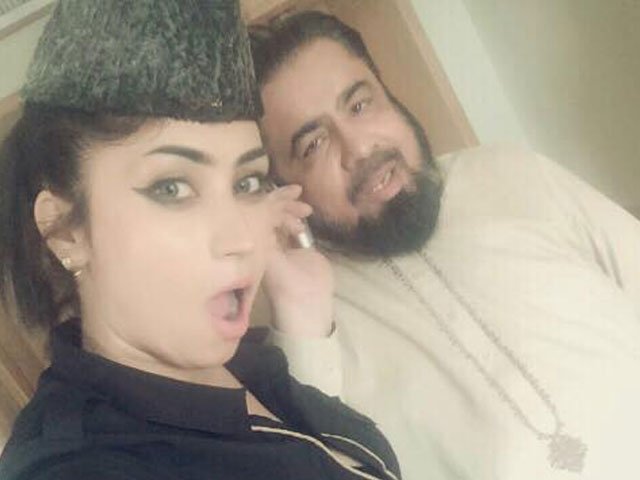 What happened next?
When asked by a local news channel what caused Hareem to take such action against the cleric, she responded: "He spoke salaciously and we have recorded the whole conversation. I have no regrets. If men like him are punished, there will not be rapes in Pakistan." She recently posted the video on her Tiktok account with the caption "Deserve that, he is munafiq, feeling proud."
However, Qavi denies the accusation against him and mentioned he was unaware of the reason for this action, "I was using my mobile phone in the hotel room when she [Shah] suddenly came into the room and slapped me. She then left."
What do the people have to say?
Where some consider Shah as a feminist vigilante and some label her as an abuser, others on a lighter note have turned the whole debacle into a meme.